Activities
Many activities are enjoyed throughout the year. Here are just a few of the fun things happening at CVPCC: Story Telling, Sharing Day, Water Day, Picnic Day, and Pajama Day. We also have one bike day per month, children bring a bike from home and ride at school!
In addition, there are special events throughout
the year. Some of these are:
BACK-TO-SCHOOL BBQ welcomes new families and provides all families with an opportunity to get acquainted.
FALL HARVEST FESTIVAL and luncheon is celebrated.
OPEN HOUSE includes a BBQ, potluck and classroom visits.
POMP & CIRCUMSTANCE is celebrated at the end of the school year.
FOOD BANK PARTICIPATION encourages children to bring in non-perishable food items for those less fortunate than themselves.
See the drop-down pages for pictures of some of the events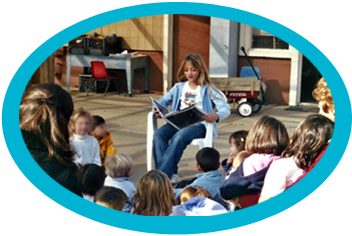 Here a graduate completes the circle by returning to read to the new students