Activities
Activities and field trips are enjoyed throughout the year. Every day is a special day and the children love having something to do. Examples of activities on various days are: Helping Others, Table Manners, Story Telling, Family Chores, Bike Day, Bean, Bag Toss, Friendship Necklaces, Tea Party Day, Bring Teddy Bears to School, Fun Day, and Pajama Day
Story Telling is always a favorite!
In addition, there are special events throughout
the year. Some of these are:
DAFFY DAVE presents a delightful program for the kids and staff.
SPRING FLING includes arts and crafts projects and a Petting Zoo.
OPEN HOUSE includes a BBQ, potluck and classroom visits.
POMP & CIRCUMSTANCE is celebrated at the end of the school year.
BACK-TO-SCHOOL BBQ welcomes new families and provides all families with an opportunity to get acquainted.
FALL HARVEST FESTIVAL and luncheon is celebrated.
HOLIDAY PROGRAM is held in the Sanctuary and is packed with families and friends.
DRESSED UP HOLIDAY provides an environment where lunch is enjoyed by the children and staff.
FOOD BANK PARTICIPATION encourages children to bring in non-perishable food items for those less fortunate than themselves.
See the drop-down pages for pictures of some of the events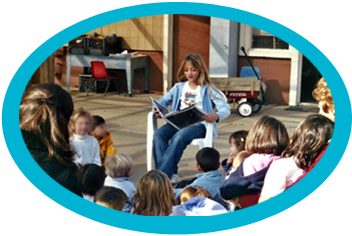 Here a graduate completes the circle by returning to read to the new students