Choir
Those who love music and find it integral to worship will feel at home at Clayton Valley Presbyterian Church. Sunday worship includes many musical styles, ranging from the traditional and historic to contemporary gospel.

All are welcome to join the choir; NO EXPERIENCE NECESSARY.
All are Welcome
Our diverse and dynamic choir provides beautiful anthems for the
Sunday 10:30 am worship service
from September into June. Love to sing? You don't need to become a church member to join choir rehearsal, which is held weekly on
Wednesday evenings from 7:00 to 8:30 pm
. at the church.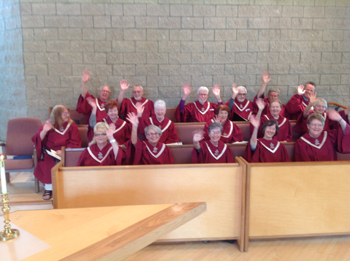 A wave from the choir with encouragement to join.
During the summer months, special music is provided by vocal and instrumental musicians from within our congregation and from the larger community. These musical talents range from duet to a banjo band to a harpist!
We're also proud to offer a venue for the Oakland-East
Bay Gay Men's Chorus holiday program, which is usually sold out.
Now is a great time for new singers to join the choir as we begin preparing for the upcoming fall and winter worship services.
For more information about music at Clayton Valley Presbyterian Church please contact David Huff, Director of Music, at 1mrdavidhuff@gmail.com.